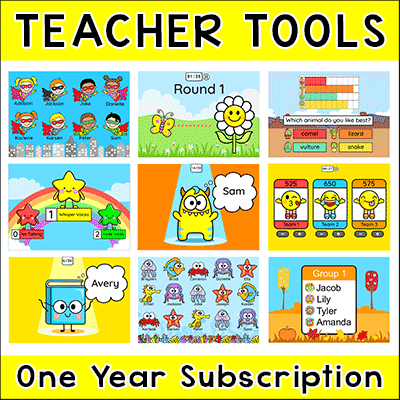 Teacher Tools - One Year Subscription
These fun digital teacher tools will keep you organized and your students engaged while taking attendance, playing games, rotating to centers and more!
The 1 Year Subscription gives you access to seven feature rich interactive tools that have many themes for seasons, characters and special occasions so you can keep things fresh and fun.
About the Tools
Attendance - Dozens of themes, easy to manage class list and optional lunch count.
Random Student Picker - A fun and fair way to select a student for a turn.
Random Group Maker - Quickly sort students into groups for games and activities.
Rotations Timer - Easily manage the timing of rotations with fun characters and sounds.
Score Keeper - Keep score during classroom games with this fun tool for up to 6 teams.
Noise Levels - Keep classroom noise levels in check with this engaging tool.
Survey and Graph - A fun way to poll your students and graph the results.